Bennett Jones acted for ATCO Group, through its investment in Canadian Utilities Limited, in its acquisition from DP Energy of the rights to build, own and operate two solar installations in Calgary aimed at providing clean, renewable energy to Alberta's power grid and supporting the transition to lower-carbon energy.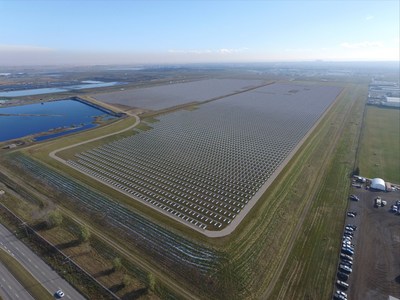 PHOTO BY CNW GROUP/ATCO LTD
Once completed, the Barlow (27 MW) and Deerfoot (37 MW) solar projects will be the largest solar installations in a major urban centre in Western Canada. They will cover roughly 170 Canadian football fields and generate enough renewable electricity to power more than 18,000 homes and offset 68,000 tonnes of carbon a year.
The two projects occupy brownfield land comprising capped phosphogypsum stacks, a by-product of fertilizer production that restricts most development opportunities. Solar PV is an environmentally sustainable option for productive use of the land that also helps to meet Alberta's green energy targets.
This announcement follows ATCO's recent acquisition of a solar project near Empress in eastern Alberta and the completion of two solar projects in Canada's North. Bennett Jones also acted for ATCO on such solar projects.
The Bennett Jones transaction team is led by Luke Morrison and includes Megan Ollivier and Allegra Hessels (corporate commercial), Brad Gilmour (environmental), Anu Nijhawan (tax), Michael Chow (real estate) and Jason Roth (EPC/construction).
For additional information on solar power projects in Canada, please see our New Energy Economy Series of blog posts and podcasts.