Written By Claire Kennedy
I recently moderated a panel of three inspiring women leaders from the Canadian Armed Forces (CAF), who spoke candidly about their career challenges and triumphs. The discussion was part of the second annual True Patriot Love Captain Nichola Goddard Fund Reception, hosted at Bennett Jones in Toronto on October 30.

The theme of the panel was resilience and agility in leadership. This was a fitting theme for this namesake event because Captain Goddard, who was killed in combat on May 17, 2006, while serving in Afghanistan, was "known as a forceful and secure commander whose troops were extremely loyal." That is the very definition of an effective leader.

Panel members were:
Lieutenant Commander Kathryn Logan, CD, whose career highlights include leading a Navy dive team at age 23.
Captain (Ret'd) Theresa Sapara, CD, a 14-year veteran of the Army who now works in civilian life for Amazon Web Services in Canada.
Master Warrant Officer Erica Oliver, E.L. MMM, CD, the first female servicewoman to qualify as a combat diver in the CAF, among many career accomplishments.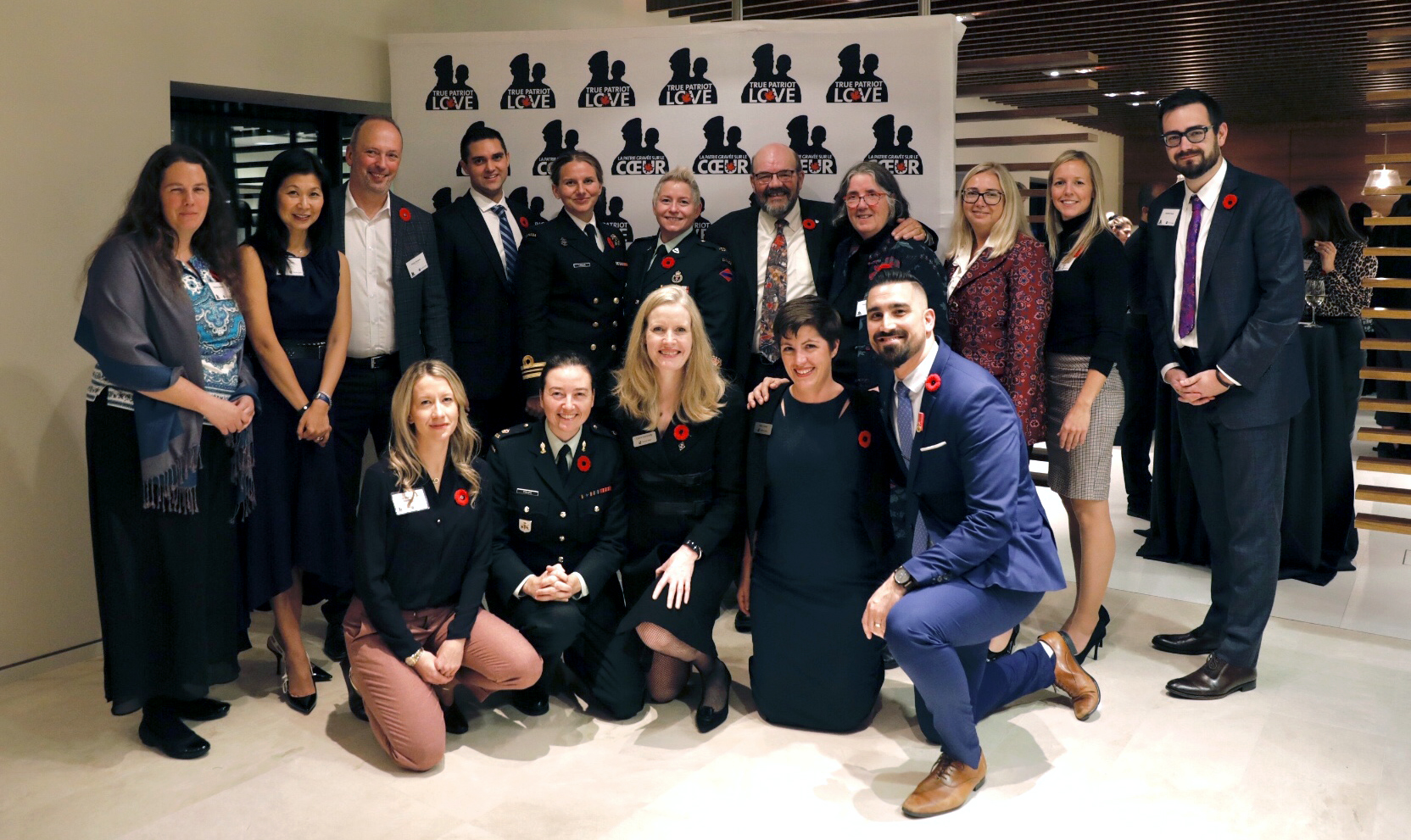 The panelists shared their key insights, many of which are applicable in civilian organizations, which made the discussion rich and rewarding for the largely civilian audience. Here are a few takeaways.
Challenges as Women Leaders
Being underestimated: Women leaders often face this challenge, especially when they are the "first female everything" in an organization. But being underestimated can be used as an advantage. Panelists shared their stories about overcoming this attitude through their competence and commitment, and earning credibility and respect as leaders.

Tackle things head-on: Negative behaviours should not be left unchecked. They need to be addressed directly and within the boundaries of an organization's environment. Then, when a matter has been resolved, the leader and the team can move on.
Resilience
Experiences build resilience: Panelists spoke about how the intensity of military experiences builds resilience. The hard training and life-and-death situations they face in combat can build an incomparable physical and mental strength in members of the CAF. These experiences create confidence and pride that stay with them during and after their military careers.

Break down a difficult assignment: Breaking down a day into manageable parts can help to persevere during difficult assignments. It is much easier to think about getting through a day step-by-step, than constantly thinking about getting to the very end of a long and grueling challenge.
Agility
Think quickly on your feet: Members of the military are trained to think very quickly on their feet, and they face this every day they are in combat. The nature of the military is to focus on a carefully planned mission. But everything can change the moment service women and men step into the theatre.

Being decisive: Leaders in the military often have to make decisions with imperfect information. There are situations where all of the facts are simply not available. Decision-making at these times requires sound, confident leadership.

Understanding priorities: The members of a team need to understand their leader's priorities. When they do, they can act and adapt when things do not go according to plan, in a way that meets the leader's goals.

Panel members also spoke with pride about how well respected the CAF is around the world for its expertise and commitment. Canada's service women and men are seen as highly adaptable and versatile. The Canadian military has long been regarded as one that punches far above its weight in joint operations.
The Captain Nichola Goddard Fund
Bennett Jones is a long-time supporter of True Patriot Love. More than 100 people attended this year's reception and over $53,000 was raised for the Captain Nichola Goddard Fund. The fund provides national funding to directly benefit community programs to support servicewomen, female veterans, and their families.