Munaf Mohamed was recently inducted as a Fellow of the International Academy of Trial Lawyers (IATL) at the Academy's mid-year meeting in Colorado Springs. The Academy was founded in 1954 and limits Fellowship to 500 active trial lawyers from the United States, and just over 150 worldwide.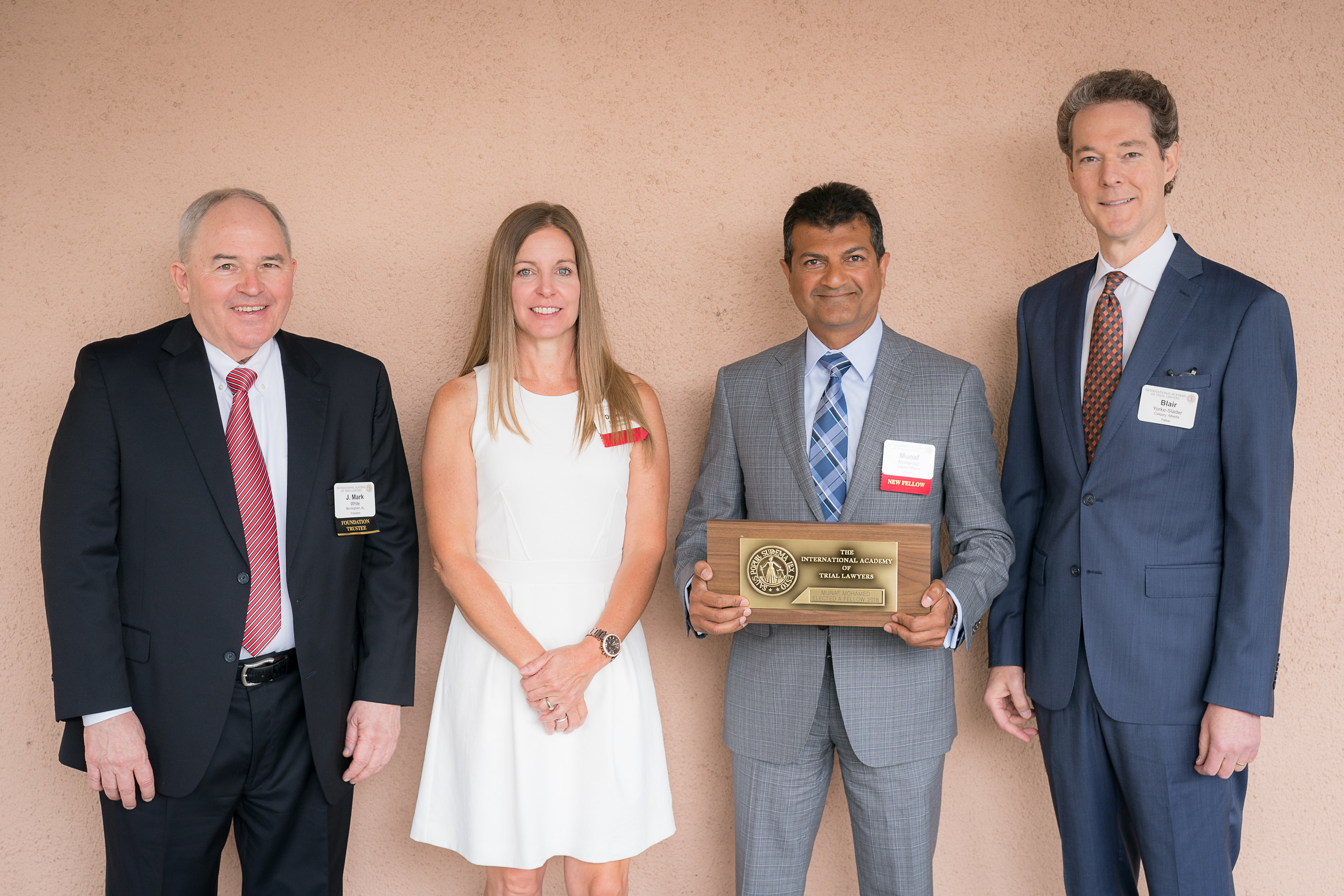 Left to right: J. Mark White, President, IATL; Darleen Mohamed; Munaf Mohamed; Blair Yorke-Slader, Bennett Jones partner and IATL Fellow.
"Congratulations to Munaf on this prestigious recognition," says Hugh MacKinnon, Chairman and Chief Executive Officer of Bennett Jones. "Fellows in the Academy are elite lawyers who represent the highest levels of advocacy, integrity and professionalism in law."
Fellowship in the IATL is by invitation only. A comprehensive screening process identifies the most distinguished members of the trial bar by both peer and judicial review. Members are engaged in civil practice on both the plaintiff's and the defendant's side of the courtroom, and the trial of criminal cases. Munaf joins Bennett Jones partners Jeff Leon, Mike Eizenga and Blair Yorke-Slader as an Academy Fellow.
Munaf is national co-chair of Bennett Jones' Fraud Law practice. He has prosecuted and defended some of the largest fraud cases in Canada and led international asset recovery efforts worldwide. He maintains a national practice and has extensive trial and appellate experience at all levels of court, including the Supreme Court of Canada. He is regularly called upon to handle large-scale energy-related disputes, complex product liability claims, international arbitration mandates and defamation claims.
Munaf is consistently ranked as a leading lawyer in Canadian and international legal directories including Chambers, Global Investigations Review, Lexpert, Who's Who Legal and The Legal 500. Benchmark Litigation lists him among the top 50 trial lawyers in Canada.
IATL Fellows are often leaders in pro bono efforts. Munaf is a member of the Board of Directors of Inn from the Cold, a Calgary organization dedicated to ending family and child homelessness in the city. In 2017, Inn from the Cold provided 33,650 shelter bed stays, 100,950 nutritious meals and 2,787 medical appointments in shelter to those in need.
About Bennett Jones
Bennett Jones is one of Canada's premier business law firms and home to 400 lawyers and business advisors. With deep experience in complex transactions and litigation matters, the firm is well equipped to advise foreign businesses and investors with Canadian ventures, and connect Canadian businesses and investors with opportunities around the world.
Media Contact
Peter Zvanitajs
Senior Communications Advisor
Bennett Jones
T: 416 777 6128 | C: 437 999 6214
E:
zvanitajsp@bennettjones.com
W:
www.bennettjones.com