Written by Lori Sterling
The Canadian government continues to launch new measures to provide access to capital to businesses and industry sectors during the COVID-19 pandemic. Members of Bennett Jones Public Policy group provide an update on the programs and their details, as well as strategic considerations to keep in mind when accessing emergency funding.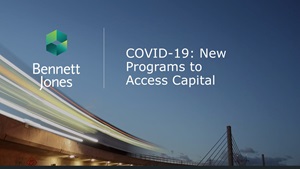 Strategic considerations include:
Access to capital programs are primarily designed to relieve immediate liquidity problems.
Some programs can be stacked.
Smaller loans can be accessed very quickly.
Sector specific loans provide additional sources of credit, particularly in the areas of agriculture and new technology. In the oil and gas sector, significant funds were sent to the provinces to distribute for clean-up of orphaned and abandoned wells.
Existing Export Development Canada (EDC) programs will be available more expeditiously than a co-loan with a financial institution and can be used as surety when you approach your financial institution.
Businesses can speak to their financial institutions about joint loan/guarantee programs with EDC and the Business Development Bank of Canada (BDC). These programs provide the largest potential pool of capital for small and medium businesses.
For large businesses, the Large Employer Emergency Financing Facility (LEEFF) program will provide loans of $60 million or more. Each loan will be custom tailored to the needs of the business. However, these loans will be subject to significant scrutiny and oversight by the government.
For companies prepared to reconsider their corporate structure or pay higher interest on loans, private equity and private debt is an option.
If there is no program available, businesses can contact their local regional development office which has been allocated funds for organizations not eligible for the mainstream programs.