To learn more about the Montréal office or to express your interest in playing an active role in our expansion in Québec, please contact Jacinthe Landry at landryj@bennettjones.com.
Bennett Jones is expanding its national business law practice with the opening of an office in Montréal. This new office is the latest chapter in the development of Bennett Jones. Founded in Calgary in 1922, it is Canada's only leading national law firm to expand from West to East. Montréal joins existing offices in Calgary, Edmonton, Toronto, Ottawa, Vancouver and New York.
"The expansion of Bennett Jones' national reach is focused on our clients. We serve them where they do business," says Hugh MacKinnon, Chairman and CEO of Bennett Jones. "Québec is full of opportunities, both in established and emerging sectors. We are making a long-term commitment in Montréal and look forward to building strong relationships with the Québec business community."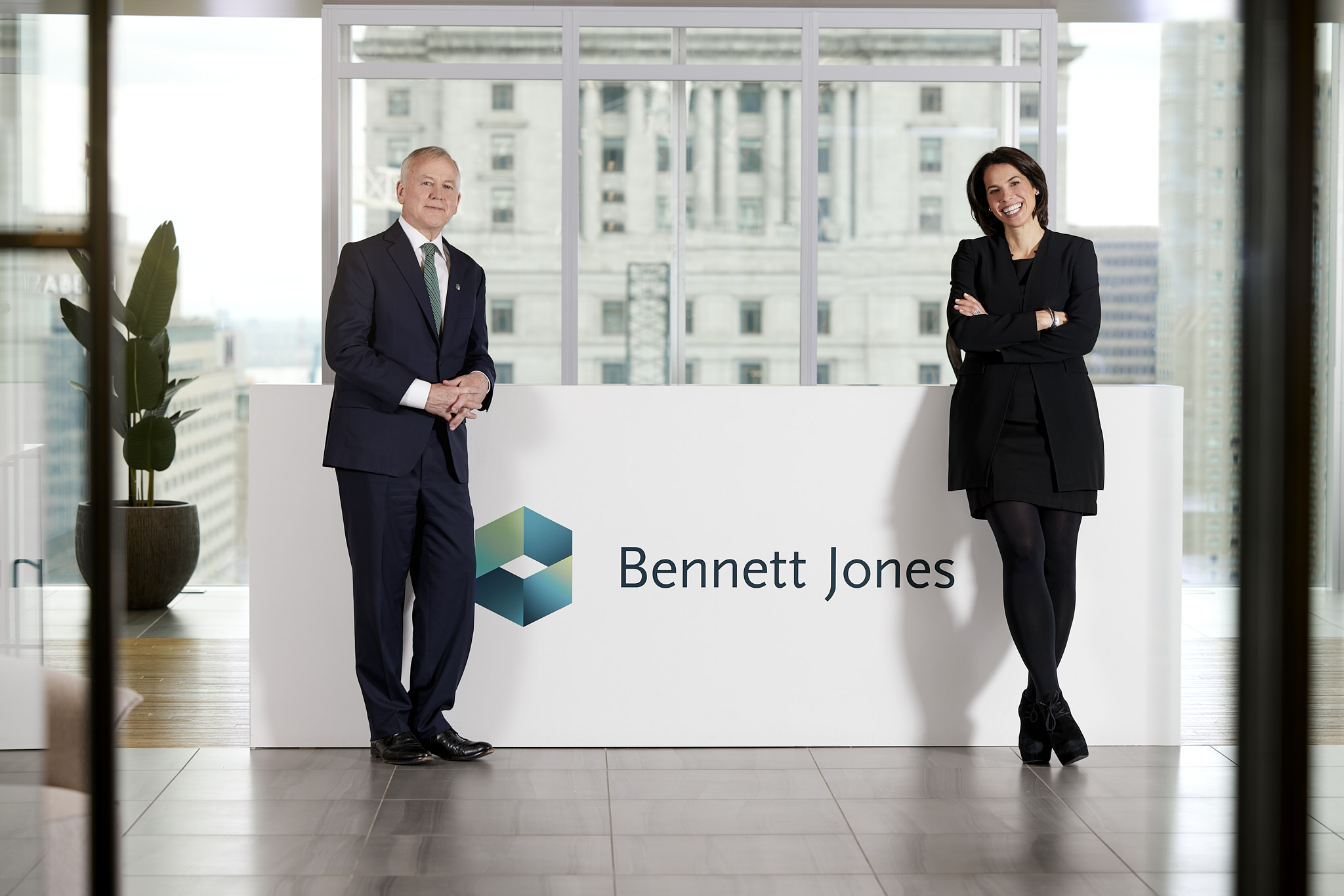 Hugh MacKinnon and Pascale Dionne-Bourassa in the bright lobby of Bennett Jones' new Montreal office at 900 de Maisonneuve West.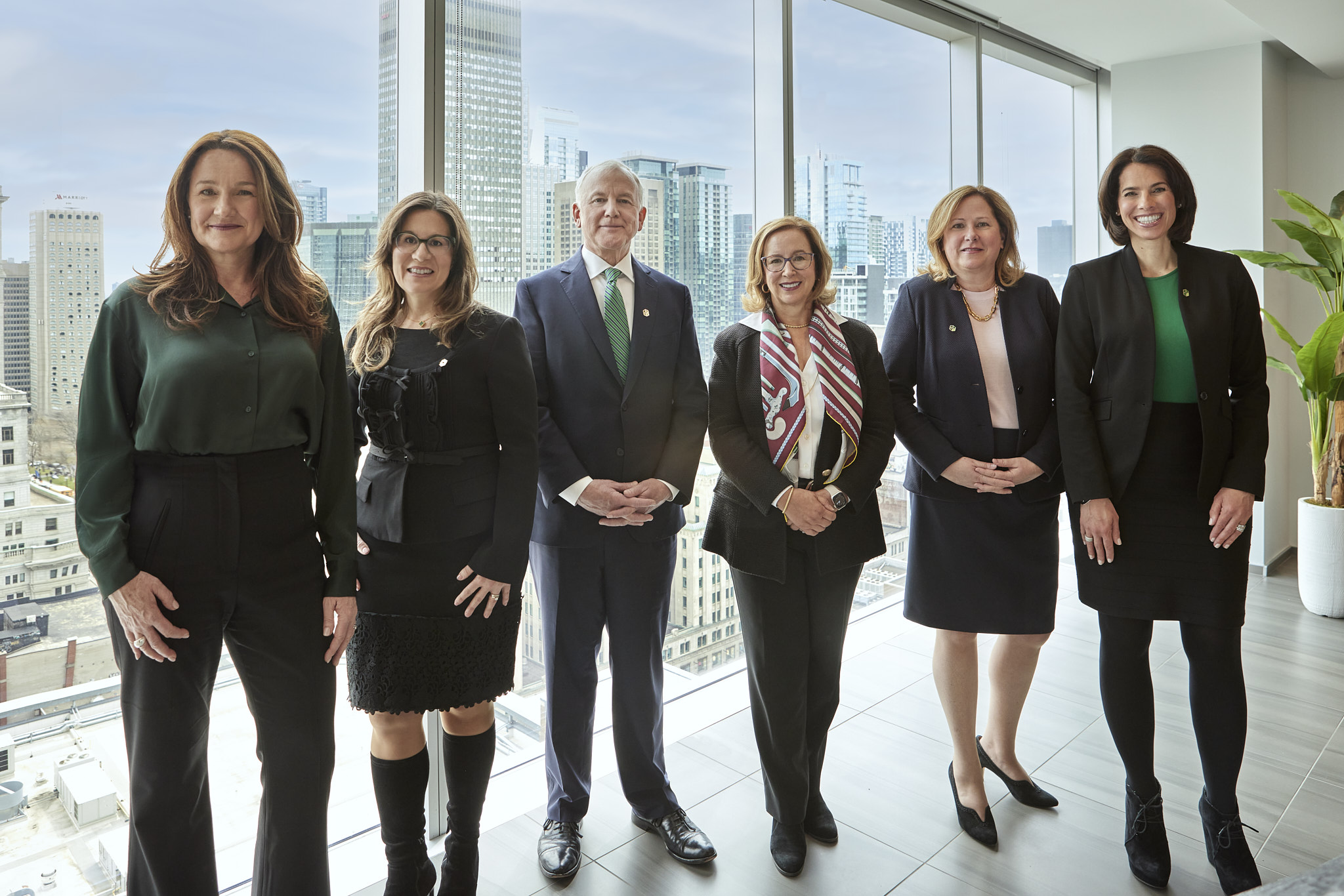 Bennett Jones' Montreal office is supported by a stellar team of local professionals and a well-established management team across the country, including, from left to right: Jacinthe Landry (Director of Administration, Montréal), Lisa Azzuolo (CMO), Hugh MacKinnon (Chair and CEO), Monique Mercier (Senior Advisor), Siobhan Walsh (CAO) and first Montreal-based Partner, Pascale Dionne-Bourassa.
The firm launches in Québec with a stellar team of client-focused and business-minded professionals, including:
Pascale Dionne-Bourassa, Partner: As the first partner in the Montréal office, Pascale brings over 25 years of experience in large-scale and complex civil and commercial litigation, as well as in construction law. She also has extensive experience in class actions in civil and competition law. Prior to joining Bennett Jones, Pascale was the founder of d3b Avocats in Montréal, and has acted in major litigation for private and public organizations in Québec, Canada and abroad.
Monique Mercier, Senior Advisor: Monique joins the firm to offer clients her extensive experience gained over three decades as a senior executive in the telecommunications, healthcare and information technology sectors. Most recently, she was Executive Vice-President, Corporate Affairs, Chief Legal and Governance Officer of TELUS. With extensive experience in mergers and acquisitions and risk management, Monique sits on several boards and enjoys a solid reputation within the Québec business community.
Jacinthe Landry, Director of Administration: With 25 years of experience in the legal and business sectors, Jacinthe began her career as a lawyer with a large national law firm before moving into executive roles in legal and business operations management. A member of the Bar and holder of an MBA from HEC Montréal, Jacinthe uses her strategic thinking and business acumen to ensure the efficient operation of Bennett Jones' Montréal office.

"The opportunity to build an office in Montréal and to develop within it a vibrant and authentic Montréal culture, true to the values that have defined Bennett Jones for 100 years—is what attracted me to Bennett Jones. I am delighted to be a part of a firm of such a high calibre with a national network of more than 500 highly talented lawyers and advisors," said the first Montréal-based Partner, Pascale Dionne-Bourassa.

"There is a perfect fit between Bennett Jones' expertise and our Québec, Canadian and international clients interested in the energy and energy transition, capital projects, construction, agribusiness, and technology sectors. The launch of our firm in Québec is a testament to the strength of the Québec economy and the interest of Canadian and foreign investors in it," added Senior Advisor, Monique Mercier.

Bennett Jones' Montréal office is located on the 18th floor of Maison Manuvie, an ultra-modern, first-class building where the firm will occupy a full floor of more than 20,000 sq. ft. The tower is strategically located in the heart of Montréal's financial district and is BOMA BEST® Platinum, LEED Gold® Core & Shell and ENERGY STAR® certified.

About Bennett Jones

Bennett Jones is one of Canada's premier business law firms and home to 500 lawyers and business advisors. With deep experience in complex transactions and litigation matters, the firm is well equipped to advise businesses and investors with Canadian ventures and connect Canadian businesses and investors with opportunities around the world. Serving clients since 1922, we are proud to be the firm that businesses trust with their most complex legal matters.