Bennett Jones is pleased to announce that its partners have elected John M. Mercury as the next Executive Chair of the firm and Dominique T. Hussey as the next Chief Executive Officer. They will assume their new roles on January 1, 2024. They will succeed Hugh L. MacKinnon KC, who has served as Chairman and Chief Executive Officer since 2005.
John has held several leadership positions with the firm, including more than 11 years on the Partnership Board, as Lead Director of the Board and as Vice Chair of Clients and Industries. He leads the firm's client and industry initiatives and international strategy, cultivating a team-based approach focused on anticipating client needs.
Dominique was elected to the Partnership Board in 2017 and became Lead Director the following year. In 2020 she was appointed Vice Chair and Toronto Managing Partner. She has led the firm's Intellectual Property Litigation group since 2011 and is co-head of the Innovation, Technology and Branding group.
"John and Dom are highly experienced in firm leadership and are brimming with skill and energy," says Hugh. "They are among the best in their practice areas and have the capability and determination to seamlessly take Bennett Jones to the next level, all while serving our clients and preserving our timeless culture. The firm and our clients are in great hands."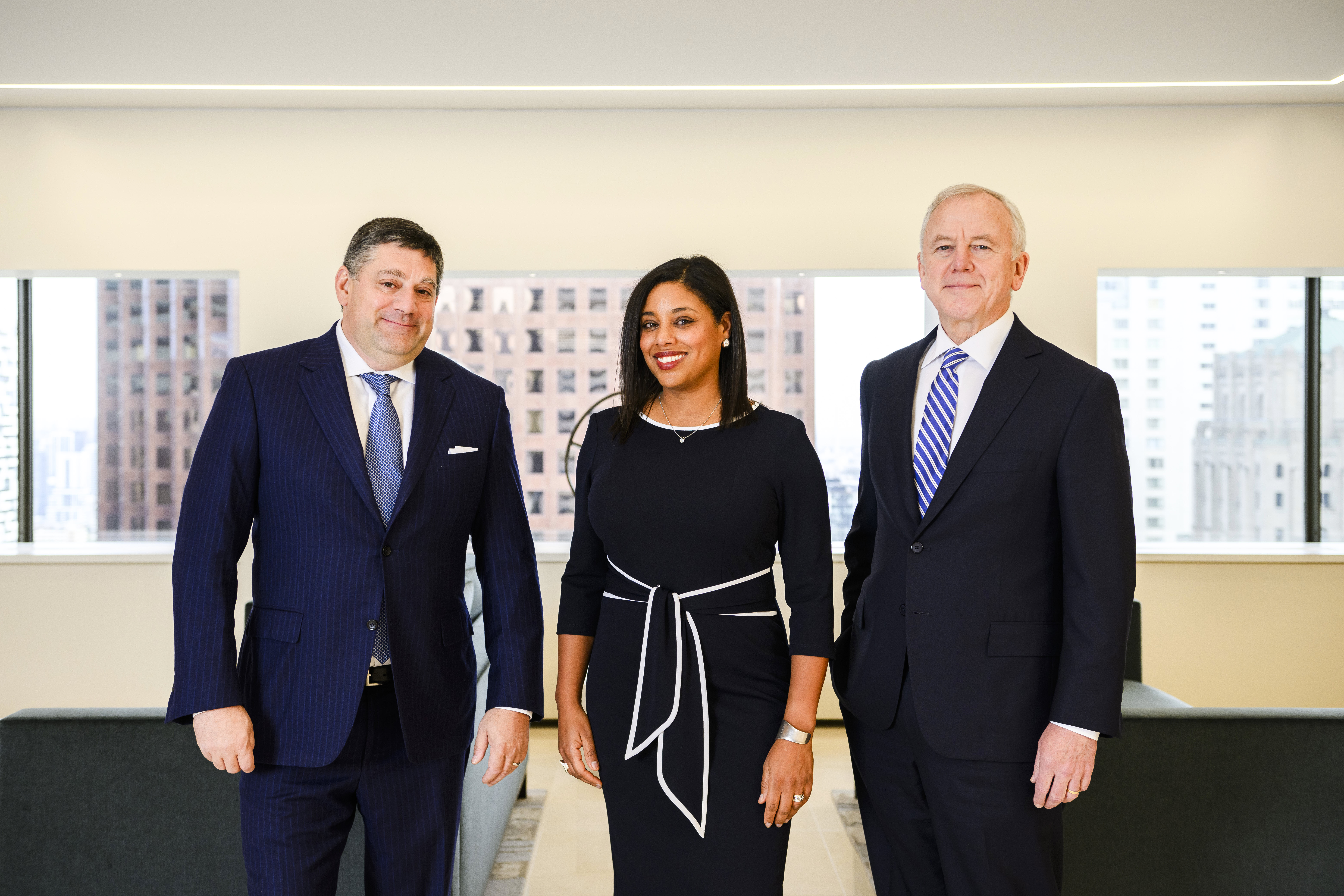 From left to right: John Mercury, Dominique Hussey and Hugh MacKinnon KC
John has built a leading cross-border M&A and private equity practice, serving Canadian, U.S. and international clients in a variety of industries. His primary focus has been representing financial investors and their portfolio companies in connection with their M&A, corporate finance and other strategic transactions.
He joined the firm in 2006 after spending nearly a decade in New York, where he practised corporate and U.S. tax law with a leading New York–based law firm and worked as an investment banker with Merrill Lynch in its M&A group.
Dominique is one of the top IP litigators and advisors in Canada. Her practice involves all aspects of IP litigation and dispute resolution, with an emphasis on litigation involving pharma/biotech and energy-related patents and trademarks. For the last seven years, Managing Intellectual Property has ranked her in the Top 250 Women in IP in the world. In 2021, Dominique received the inaugural Chambers Canada Law Firm Leaders Award. She is the President of The Advocates' Society, a 5,500-member national organization of litigators.
Before joining Bennett Jones in 2005, Dominique practised in high-stakes pharmaceutical patent litigation with a leading U.S. law firm in New York.
John and Dominique will continue their respective practices in their new leadership roles.
During Hugh's 18-year tenure as Chairman and CEO, he helped steward the firm's growth and market position as a top-tier Canadian business law firm. In addition to significantly expanding the firm's geographic footprint and diversifying its revenue and client base, Hugh is also responsible for developing a new generation of diverse, business-oriented and client-focused leaders at the firm.
In 2022, Bennett Jones celebrated its 100th anniversary of service and trust with clients. The firm is the longest-ranked Best Employer in Canada and was recognized for a 22nd time last year by Kincentric.
About Bennett Jones
Bennett Jones is one of Canada's premier business law firms and home to more than 500 lawyers and business advisors. With deep experience in complex transactions and litigation matters, the firm is well equipped to advise businesses and investors with Canadian ventures and connect Canadian businesses and investors with opportunities around the world. Serving clients since 1922, we are proud to be the firm that businesses trust with their most complex legal matters.