"Bennett Jones' TME Group shares OMERS Ventures' commitment to the technology sector and its importance to Canada's future. They have a deep understanding of the technology ecosystem based on their long-standing commitment to the space, and provide strong advisory support for our firm's investments in technology ventures."
- John Ruffolo, Chief Executive Officer, OMERS Ventures
Bennett Jones' TME Group consists of a group of dedicated legal professionals in Toronto, Calgary and Edmonton. We are focused on providing services and expertise designed to enhance the prospects of our TME clients. We deliver high quality legal services with an entrepreneurial approach.
While the TME Group offers the intimacy and responsiveness of a small firm, we also draw on the resources of Bennett Jones' approximately 400 lawyers and legal professionals for their experience in the broad range of legal matters that are relevant to our TME clients.
We develop and maintain stable, long-term relationships between each client and one of our lawyers who acts as a single point of contact. The contact person will introduce and coordinate other Bennett Jones lawyers in any specialty disciplines needed by our TME clients.
The TME industry is characterized by collaboration and networks. As long-time participants in the space, we have developed an extensive network of contacts in Canada and beyond, and we make these contacts available to our clients. Our network includes financing sources (angel, venture capital, private equity and strategic investors, investment banks and commercial banks), government agencies and professionals in related fields (accountants, lawyers, recruiters, marketing and business development experts, proxy solicitors, and investor and public relations consultants). These are people with whom we have worked over many years and whom we recommend with confidence.
Our TME Group has worked with hundreds of TME businesses over more than 20 years. We deliver that experience to every client by recommending best practices and helping them to avoid costly mistakes with customized advice. There is no substitute for the experience of having seen particular approaches succeed, or fail.
"I've worked with the Bennett Jones TME Group since starting the business. They are an integral part of my advisor team. They are more than just lawyers. They think strategically like business people, and help me anticipate and avoid potholes in the road ahead."
- Yung Wu, Executive Chairman, Fuse Powered
Services
We service all legal needs. If we have a conflict or do not have the required skillset in-house, we will recommend another suitable professional, and provide you with a warm introduction.
"The TME Group gives me access to the depth and skills of a large Bay Street business law firm, delivering prompt and efficient round-the-clock service, focused on the needs of my technology company. Not only do they answer the call or email any time of day or night – they provide me with a practical answer to the question or introduce me to someone who can."
- Marzio Pozzuoli, Founder, RuggedCom
We focus on rapidly growing TME businesses, built on proprietary technology, content or information, that are intended to compete internationally. Sectors in which we are active include the following:
software and hardware
life sciences, medical services and medical devices
advanced manufacturing
film and television
telecommunications
big data
Internet, social media, gaming and e-commerce
business intelligence
We offer legal services geared specifically to meeting the distinct needs of TME businesses throughout their lifecycle, including the following:
corporate finance from private and public (government) sources
shareholder and partnership arrangements
employment, including employment agreements, proprietary rights agreements, stock option plans and other incentive arrangements
private securities financings, including seed, angel and venture capital
public securities financings, including IPOs, secondary offerings and PIPES
stock exchange listings
tax, including personal tax planning and corporate international tax structures
corporate governance, including special committees and enhancing board effectiveness
director and officer protection, including director and officer indemnities and insurance
mergers and acquisitions on behalf of targets, acquirors (domestic and foreign), shareholders and special committees of targets
takeover defences and protections
technology contracting, including licensing, subscription services (SAAS) and outsourcing
intellectual property protection, internally and externally, including trade secrets, patents, trademarks, copyright, confidentiality and non-disclosure agreements, proprietary rights agreements, non-competition agreements and licensing arrangements
commercial partnerships, joint ventures and strategic alliances
production and distribution agreements, including film and television
advertising, promotion, marketing, packaging and labelling
food and drug regulatory applications, approvals and agreements
shareholder disputes for private and public companies, including proxy battles
litigation, including defamation
insolvency and restructuring strategies
international trade, including export control
government relations and policy
We also act for Canadian and foreign venture capital funds in fund formation, portfolio investments and portfolio exits, and for investment banks on public offerings of securities, mergers and acquisitions and other public market activities of TME businesses.
Fees
We do not compete on the basis of fees, but rather on the basis of value for money. However, our training and staffing practices mean that we are efficient and affordable. We deliver responsible client service by providing prompt, practical and cost-efficient advice to our clients. We offer customized fee arrangements to early-stage companies, recognizing their limited financial resources and potential for future growth.
"The Bennett Jones team was with me throughout the growth cycle of Alliance Atlantis. They are with me again as we are building the Blue Ant Media business."
- Michael MacMillan, Chief Executive Officer, Blue Ant Media
Recognition
Lexpert conducted a peer review survey of Canadian technology transactions lawyers and published the results in January 2014. Bennett Jones was recognized as the leading Canadian technology transactions firm, with 4 of 10 of the leading technology transactions lawyers listed (double the number of any other firm). The chart below shows the leading position of Bennett Jones in the Toronto market as determined by Lexpert based on its survey results.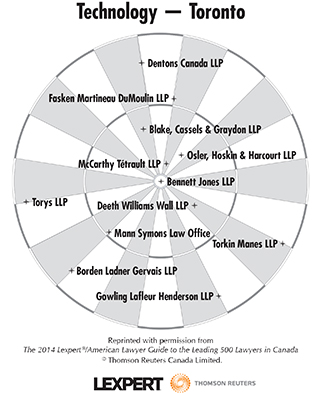 Bennett Jones was also named the 2014 winner of the Corporate INTL Magazine Global Award for Technology Transactions Law Firm of the Year in Canada.

Representative TME Clients
Algorithmics
Alliance Atlantis
Alothon Funds
Analytics For Life
Avotus
Basis100
Battery Technologies
BCE Publishing
Beehive5
Bertech Pharma
BEST Funds
BlackBerry/Research in Motion
Blue Ant Media
Blue Pear Ventures
Book4Time
Burntsand
Canaccord Genuity
Canadian Satellite Communications
Canadian Venture Capital Association
Cantel
CanWest
Centah
CHUM
Cimtek
City TV
CML Healthcare
Cognos
Corel
CORUS Entertainment
Digital Fairway
Dimethaid
Direct Energy
DirecTV
Dropdeck
DWL
Echoworx
eCommera
Eco Waste
ELab
Electric Spin
Embanet
Emerald Technology Ventures
Entertainment One
Finisar
First Data
Flashstock Technology
Foragen
Fuse
Geminare
Genpharm
Globalive
Google
Hearst Publishing
Hotspex
Husky Injection Molding
Hydrogenics
Icera
Igloo
Institutional Limited Partners Association
INVISTA
iNovia Capital
Klick Health
Klondex
Kneebone
Lava
Lionsgate Entertainment
Lorus
MaxLink
McLean Watson
MediaTube
mDialog
Medi Solutions
Milestone Medica
MOSAID
Motorola
Movie Distribution Income Fund
Neulion
Netcom Canada
Netscape
Neurospheres
NFQ Ventures
Novopharm
NRX Global
Nutribev
OMERS Ventures
Oncolytics Biotech
Optech
Opterus
Peace Arch
Pharos Life
Primaxis
Priveq II
Prophix
PSE Sports & Entertainment
Q9 Networks
Quebecor
QuIC Financial Technologies
r/ally
ratiopharm
RBC Capital Markets
RBC Technology Ventures
REGEN
RepeatSeat
Rogers Communications
Route1
RuggedCom
SAMSys
Skymeter
SkyPower
SMART Technologies
Somerset
SONY Entertainment
Spatial View
Sphinx Productions
Spin Master
Synacor
Syncapse
Technology Crossover Ventures
Teknion
Telepanel
Telus
Teva Canada
The Upside Foundation
Thoma Bravo
Thomas Weisel
TigerTel
Triversity
University of Alberta
University of Calgary
University of Guelph
University Health Network
VenGrowth
Ventures West
Voxcom
Wind Mobile
Workbrain
Yahoo.ca