Bennett Jones' Martin Kratz received the Award for Outstanding Service at the 30th Anniversary ASTech Awards in Calgary on November 1, 2019. Alberta's Lieutenant Governor Lois Mitchell paid special tribute to Martin for his more than 30 years of unfaltering support and dedication to innovation in Alberta and, in particular, to the Alberta Science and Technology Leadership Foundation (ASTech Foundation).

The ASTech Awards are Alberta's most prestigious science and technology honours. The premiere event of its kind in Alberta, the ASTech Awards bring together 500 leaders from industry, government, media and educational institutions to honour and celebrate outstanding achievement in 10 categories covering the innovation ecosystem and sector-specific categories.

At the awards ceremony, Lt. Governor Mitchell said that, "in 1989, Martin was one of a small group of industry leaders, who gathered to organize a platform for the sharing of success stories in Alberta's innovation community, that platform became the ASTech Foundation." Martin went on to serve for the next 30 years as a director, and periodically as the chair, of the ASTech Foundation.

The ASTech Foundation focuses on increasing awareness of the importance of science and technology to society by identifying and celebrating leaders in science, technology and business activities in Alberta.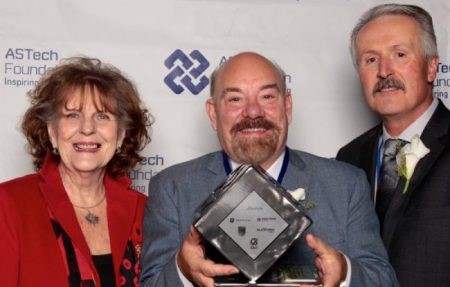 Lieutenant Governor Lois Mitchell and ASTech Board Chair Rick Tofani congratulate Martin Kratz for 30 years of dedicated leadership to the ASTech Foundation.